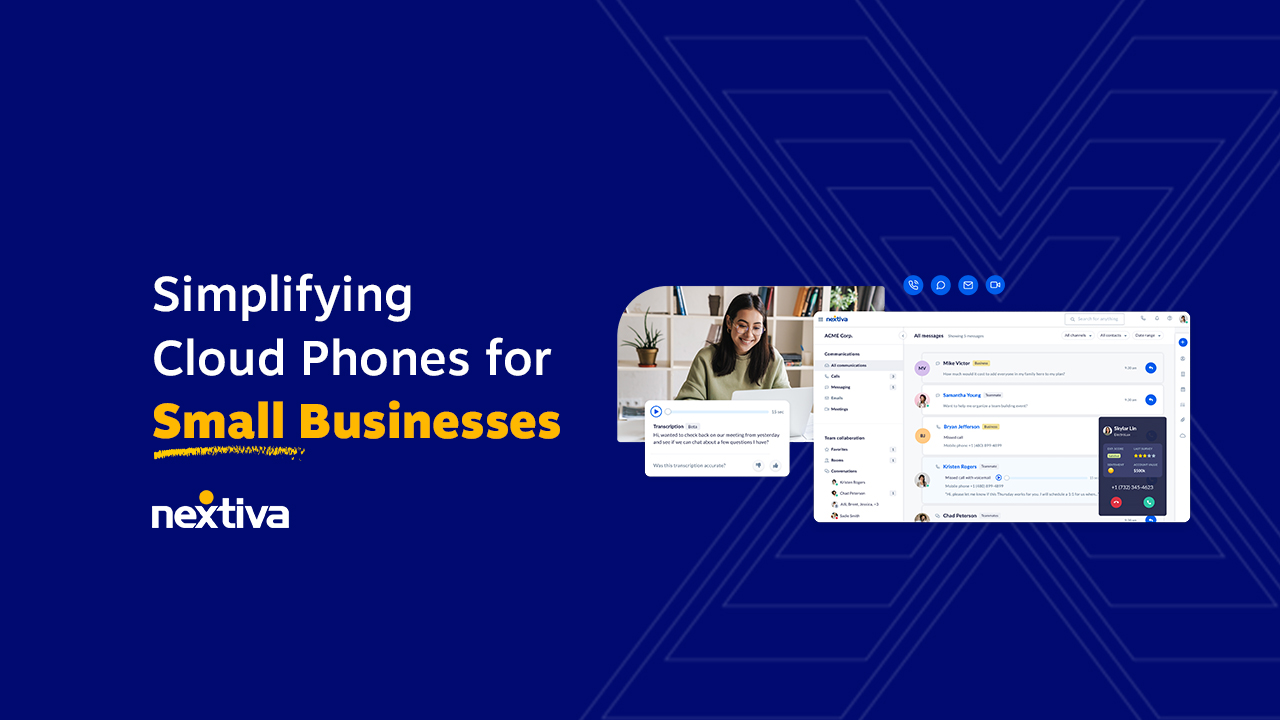 January 16, 2023
Simplifying Cloud Phones for Small Businesses
You've noticed your customers don't want to be on the phone for long. Some prefer not to be on it at all, favoring live chat and text-based interactions instead. They want the ability to communicate their way and they want it right now.
The stakes are high for small businesses – 72% of customers consider switching to a competitor after just one negative customer service experience. Just one. Do you have the employees to execute the demand for responses right now? Do you have the technology to support automation and provide customer service through text messages and live chats?
If you're still using a traditional landline phone system as your primary means of communication with your customers, your margin for error in customer service is razor thin. It might be time to move away from your traditional landline phone system into a cloud-based, unified communications solution.
We don't want to let techy jargon stop you from considering a business phone system that allows you to keep pace with (or outpace!) your competitors. Let's sort through the terminology and answer some of the most basic, frequently asked questions surrounding cloud phones.
What is VoIP?
VoIP stands for Voice over Internet Protocol. It's pretty straightforward, really. Instead of a traditional landline, VoIP technology allows you to make voice and video calls over your internet connection. And not just phone calls. With a VoIP unified communication system, your business can also communicate and collaborate via text, live chat, video conference and more.
Plus, VoIP phone systems don't require a physical landline, bulky equipment or any technical training, so you can take your business phone system with you anywhere. With top-rated iOS and Android mobile apps and easy-to-use desktop apps for Windows and Mac machines, you can have the flexibility to conduct business in ways that make the most sense for you.
What is the cloud?
Essentially, a cloud phone system is hosted at Nextiva's data centers rather than on-premises at your business. A switch to a VoIP phone system means little to no capital expenditure on your end – and it's simple, too. Transfer phone numbers (or get a new business number), download the Nextiva app to your smartphones and computers, and you're ready to go.
What if the internet goes down?
It doesn't really work like that. The internet is a collection of independent networks, so it's never truly down. If your business has experienced service interruptions with the internet in the past, it has been due to your connection. Nextiva solves this problem through redundancy – with eight data centers strategically located across the United States, if one connection goes down, a secondary connection is right there to continue your service uninterrupted.
In fact, our reliable network connection has 99.999% uptime with zero reported outages.
Is the cloud secure enough to help protect against data breaches?
Yes! The Nextiva network meets and exceeds security standards for information security management systems (ISMS) set by the ISO/IEC 27001 certification. What does all that mean? Simply, we take security seriously and continuously invest in world-class technology for protecting your organization's data.
I'm not a tech wizard. Will I need to hire a system administrator?
No tech wizardry is required, and you won't need a system administrator. Our Nextiva software is designed to be self-installed and easy to use. And if you get stuck, our award-winning customer service is there for you 24/7.
Why should I fix something that isn't broken?
You could wait until it's broken. But the risks of ignoring new capabilities are becoming far too big to ignore. 74% of customers use multiple channels (phone + email + chat + social) to start and complete a transaction. And 55% will wait an hour or less before switching channels. If you don't have other channels, and you can't guarantee a less-than-an-hour turnaround time, where does that leave you?
Besides, with scalable products and flexible pricing models, the cost of entry is significantly less than you might expect. In fact, on average small businesses using VoIP can reduce their company's phone bills by up to 60% - and up to 90% on international calls.
So even if it isn't broken, even if it seems to be working perfectly fine for your business, chances are you're overpaying for a system that is underdelivering.
Check out how Nextiva's unified communication solutions for small businesses can support you.
CT Solutions helps organizations across industries address challenges through tailor-made communications solutions – delivered in a personalized, partner-led way.
CT Solutions partners with Nextiva, a cloud communications company, to help businesses build deeper connections with their customers. Nextiva combines communication channels — voice, video, collaboration, SMS, and surveys — to help businesses of all sizes provide amazing customer experiences and drive business results.